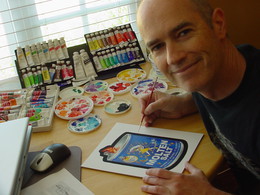 Location
I am located in central Phoenix, AZ (don't let my '702' area code fool you... I used to live in Las Vegas)
About Smokin' Joe (McWilliams)
---
Thanks for visiting my Portfolio. I am located in Phoenix Arizona (although I have a '702' Las Vegas area code... I recently moved to Phoenix and am keeping my previous cell phone #).
I am a graphic artist. I work on both Mac & PC platforms and utilize Adobe Master Collection CS3. I work primarily with Corel Draw 13, Photoshop, Illustrator & Microsoft Office PowerPoint.
I am an illustrator. I can paint and draw the old fashioned way... by hand... using a variety of mediums (ink, gouache, watercolor, marker, acrylic, oil paint, airbrush).
I am a sculptor. I have worked with a variety of sculpting mediums (oil and water based clay, high density sign foam, EPS foam, cellu clay).
I am also familiar with mold making and casting techniques and materials.
You'll see from my portfolio that I have worked on a wide range of artistic projects, both large and larger (and some small). I have worn many hats... designer, illustrator, art director, project manager, creative writer, sculptor, team leader, team member... whatever the project needed me to be.
If you have a project that requires a creative thinker with an artistic hand, I just may be your guy.